shops
Take a bit of the Village home with you.
14 shops
authentic fare
meeting points and information centres
fair, benign and sustainable trade
Presentation
In the Aldeias do Xisto network of shops, only selected quality products are sold. From traditional to modern, these are hand-made items crafted by traditional tradesmen and contemporary artists, inspired by the people and culture at the heart of Portugal. Many of the products used to be known only to the inhabitants of these 27 villages. Others are reinterpretations of traditional processes and materials, truly contemporary design pieces of rural inspiration.
With the creation of this network of shops, a wide range of cheese, wine, aromatic herbs, infusions and regional sweets are available. Along with hats and scarves, rings, necklaces, brooches. You can even take some of the most original decoration or handcrafted artwork Take a bit of the Village home with you.
Immersed in nature... or in the city
Whether in urban or rural environments, these shops live the old paradigm of the local village grocery store, but with a touch of innovation that allows the bringing together of languages and people. Here visitors can find traditional products or designer items, and in some of them the locals still go to buy beans and bread and exchange a few words. The Shops are excellent starting points to discover other worlds. That's why, in these shops, the important thing is to enter without haste and with your senses sharp for flavours, knowledge and conversation. We bet you will be surprised.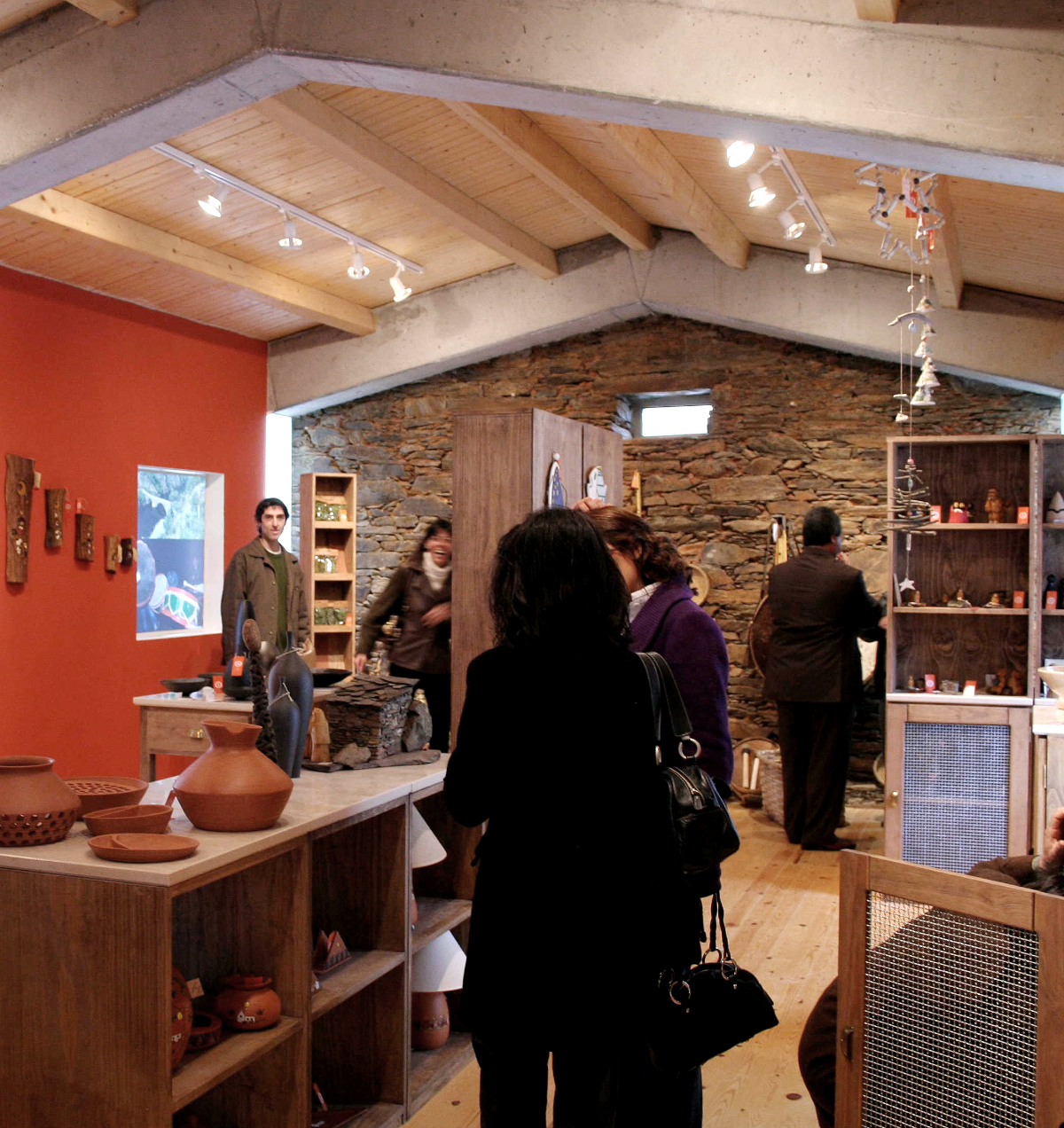 Craft - Homeland of Cultural Identity
Over the years and through various projects, this territory has come to be known as a haven for reinvention and experimentation with craft + culture + nature. In the same way that language embodies culture, handicrafts and their materialisation in objects reflect and perpetuate the expression of an identity. Defending and promoting craftsmanship represents Aldeias do Xisto's investment in the creation of a space where craftsmen are invited to create with the materials that transform the identity of our very time and space. Moulding, sculpting, fusing and interweaving these environmental, social, emotional and symbolic values, sustaining them in networks for building and sharing knowledge is of utmost importance in the search for new ways to promote the Aldeias do Xisto territories as a quality destination for living and creating. The results of this work and dedication can be found in Aldeias do Xisto shops.
Fair Trade
The Aldeias do Xisto network is a social, environmental and quality project, with the ultimate goal of mobilising an innovative concept of sustainable tourism in Central Portugal. At the same time, it is committed to defending fair and solidarity-based trade as a way of contributing to sustainable development, adopting a set of principles to this end.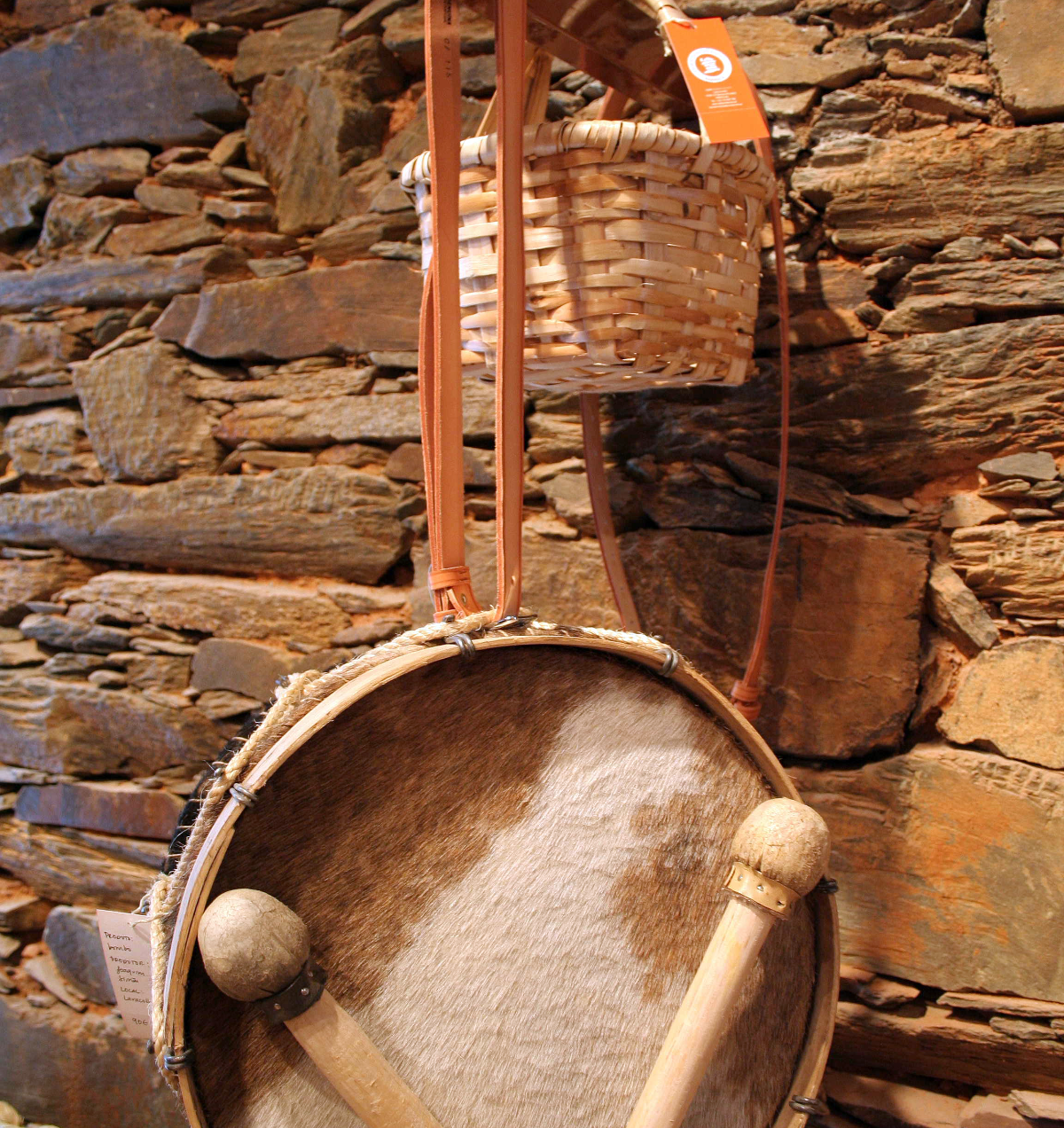 shop list
Enter without haste and with your senses sharp for exciting flavours, knowledge and conversation. You will be surprised.
The Aigra Nova Aldeias do Xisto Shop is integrated in the itinerary of the Schist Traditions Ecomuseum, which joins Aigra Nova to Comareira, Pena and Aigra Velha. The Shop is the starting point of a tour through the arts and traditions of these four villages, following the memories of mills, mills, paths and knowledge recovered in a visitable and possible to experience.

Opening hours:
Monday to Friday from 9am to 5:30pm
Closed on weekends and holidays.

Visits to the Ecomuseum need to be booked in advance.

At Água Formosa Aldeias do Xisto Shop As emblematic products you will find baskets, tenements, weaving (bedspreads, cloths, towels, carpets and rag blankets), honey, medronho and the sausages. This space also functions as the Village's café.

Opening hours:
Tuesdays to Sundays from 10am to 5pm
Closed on holidays.

At Álvaro Aldeias do Xisto Shop, you will find brandy, liquor and medronho jam, slums, blankets, rag dolls and some works in shale. It is also from the shop that you can discover the unique religious heritage of this village by taking the Chapels Route. Talk to our shopkeeper.

Opening hours:
From 10:00am to 1:00pm and from 2:00pm to6pm
Closed on Wednesdays.

At the Casal de São Simão Aldeias do Xisto Shop, in Figueiró dos Vinhos, you will find genuine products of selected quality, inspired by the people and culture of the heart of Portugal. The Shos shares the building with the restaurant Varanda do Casal, where you can taste the best of the regional gastronomy.

Opening hours:
October – June: Wednesdays to Sundays, from 11am to 9pm
July – September: Tuesdays do Sundays, from 11am to 9pm

Na Loja Aldeias do Xisto de Casal de São Simão, Figueiró dos Vinhos, encontra produtos genuínos e de qualidade selecionada, inspirados pelas gentes e cultura do coração de Portugal. Esta Loja partilha o edifício com o restaurante Varanda do Casal, onde pode provar o melhor da gastronomia regional.

Horário
Outubro a junho: 4.ª a domingo, das 11h00 às 21h00
Julho a setembro: 3.ª a domingo, das 11h00 às 21h00

The Fajão Aldeias do Xisto Shop works in the Ponto + space, in Fajão Cultura, a multipurpose building at the service of the local community and visitors. Here, you can find some typical rural handicraft products from Fajão, such as a wooden puzzle, which will delight small and even big people.

Opening hours:
16th september to 14th July:
9am to 1pm and 2pm to 6pm
Closed on weekends

15th July to 15th September:
Tuesdays – Fridays – 9am to 1pm and 2pm to 6pm
Sundays: 9am to 1:30pm and 2pm to 6pm
Closed on saturdays

The Aldeias do Xisto de Figueira Store, in the municipality of Proença-a-Nova, has a wide range of products, from handicraft to agro-food, as well as publications and various brand merchandising. Located at the entrance to the central nucleus of the town, it is a multipurpose space that allows for multiple activities. In this building also works the Restaurant Casa Ti' Augusta, a pleasant and refined space, where the best of the regional gastronomy is made.

Opening hours:
Mondays – Tuesdays: 11am to 6pm
Fridays – Sundays: 11am to 10pm.

It is in the space Jira Pampilhosa, in the village of Pampilhosa da Serra, that the Pampilhosa da Serra Aldeias do Xisto Shop operates, with its socks walls and the Tourism Office of the Municipality. Besides being able to take home the best of food and handicraft in the region, this is also a privileged starting point to get to know the territory.

Opening hours:
Week – 9am to 6pm
Weekends – 10am to 6pm

Located at the entrance to the village, Casa da Eira it is an important meeting point for tourists and visitors. It has a cafeteria service and an area for selling local products and handicrafts, sharing the traditions and history of the region. This space is also at the service of small producers, exhibiting and selling their products. This way it supports small businesses and promotes micro and nano producers.

Opening hours:
Everyday from 10am to 6pm

montra casa das tecedeiras

The Janeiro de Cima Aldeias do Xisto Shop, in the municipality of Fundão, shares the space with the Casa das Tecedeiras, which is, at the same time, a workshop, a point of sale and an interpretive center for linen and weaving. It is therefore a good starting point to get to know the history of the Village and purchase some of the most iconic products in the region.

Opening hours:
Everyday from 1:30pm to 5:30pm

pedrógão grande tourist interpretation center shop

At the Pedrógão Grande Tourist Interpretation Center Shop you will find several products, selected and with the quality Aldeias do Xisto. Along the two floors the various interactive applications allow the visitor, in a playful and agile way, to obtain a more comprehensive view of all the tourist possibilities existing in the Center Region. As well as, in more detail, on the existing tourist offer in Pedrógão Grande and the Schist Villages Network. An innovative space that deserves a visit.

Opening hours:
Week – 10am to 6pm
Weekends and holidays – 10am to 1pm and 2:30pm to 6pm

The H2otel, in Unhais da Serra, combines shist and granite to create a space of enormous beauty and magnitude. Here, the Aldeias do Xisto Shop fits into a space with a fine aesthetic profile and offers an excellent showcase for the best products in the region.

Opening hours:
Permanently open

montra hotel de santa margarida

The Santa Margarida Hotel, located in Oleiros, has a space dedicated to elected quality products, combining ancestral knowledge with modern techniques and an exclusive design.

Opening hours:
Permanently open

montra aqui à volta – aveiro

In the space Aqui à Volta you will find a lot of selected products from designers, craftsmen, artists and stylists connected to the Aldeias do Xisto. Inside the Shop you will find, at all times, an exhibition module with handicrafts from our portfolio. Here you can also obtain information about the tourist offer of the Aldeias do Xisto and plan your visit to this territory.

Opening hours:
Tuesdays – Saturdays: 11am to 7:30pm
Closed on Sundays and Mondays